About The Founder
Learn more about us and our work
About Us » About The Founder
At 7:30 am, a bike stops in Narol neighborhood slum in Ahmedabad, a metro city in west India. A few slum kids squeeze themselves in the morning cold and eagerly wait for this bike as well as the biker, Virat Shah. The news of his arrival is relayed and 20+ kids assemble quickly. A 'red' carpet is rolled out on a nearby footpath for their walk into the new world….and the Sarvodaya 1st center class begins! No blackboard. No benches. No posters. Nothing of a typical school infrastructure. The biker now turns into a teacher and slum kids as students. The teacher scans the 'classroom' for attendance.
Bad luck for some kids, who show up late…these fellows have to go back home. The teacher is disciplinarian and demands punctuality. The pedestrians neither distract the teacher nor the kids. Regular onlookers wave their hands with smile, to show their moral support for this footpath school. Some with deeper interest bring biscuits, notebooks etc. and chat with teacher & students for the progress & support occasionally. No wonder the Sarvodaya center is famous in the area. Unaware passers-by have a reason to believe that they are missing something!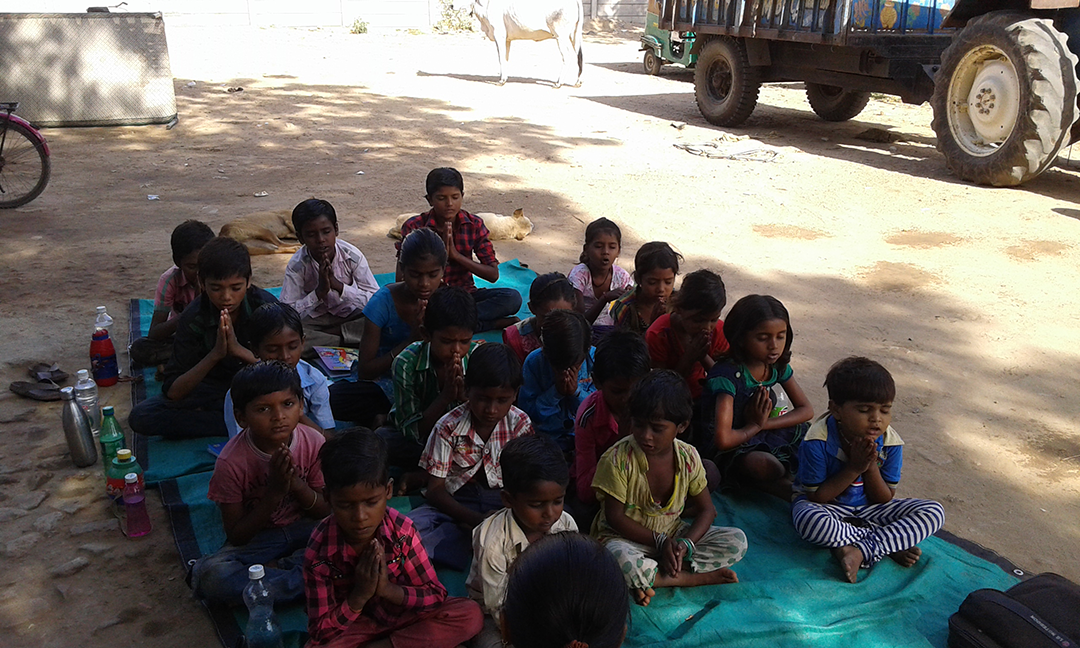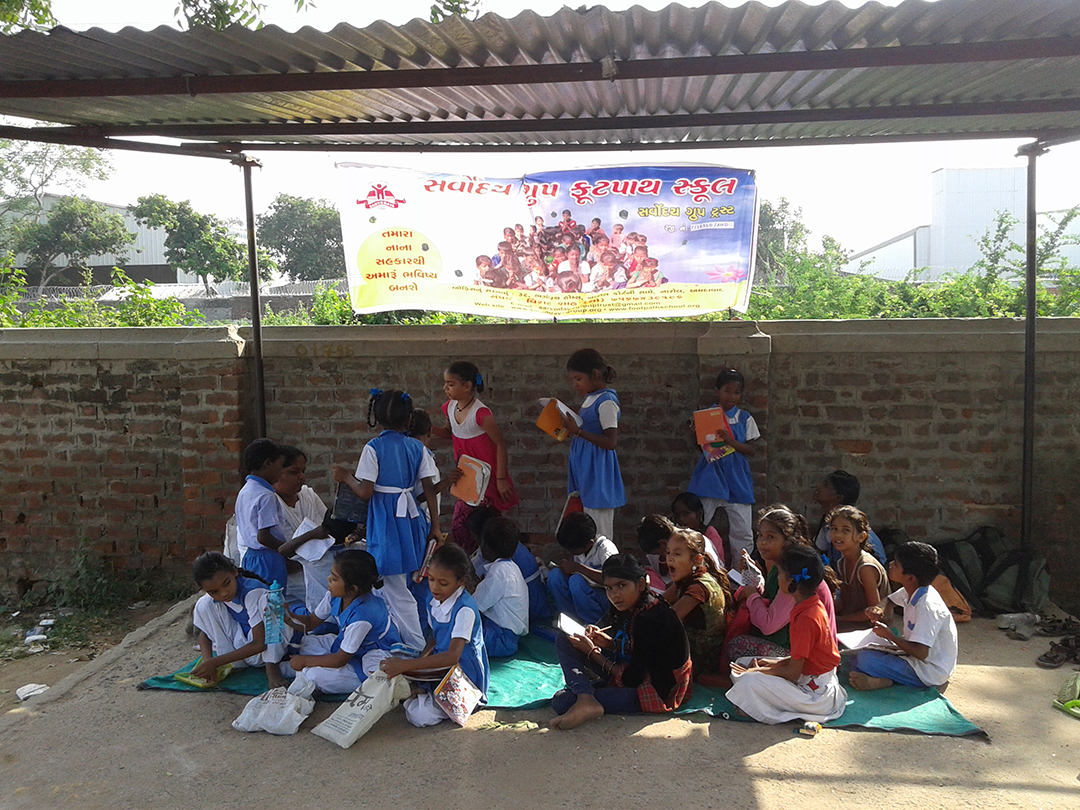 Everyone writes on the slate or notebook with the help of teacher …not realizing this is the beginning of writing his or her destiny. A recess after sometime. Everyone takes out a water bottle to wash hands. Kids pray to and thank the almighty for Hope, Food and today's Class. Lunchboxes are distributed and soon they are emptied! Each student washes his/ her lunchbox. No bell ringing. The class is declared over. And now it is time to have some recreational activity – story telling, singing songs and rhymes, playing outdoor games like kho-kho, langadi, volley ball or fun games like lemon spoon, frog jump.
To go home, kids run fast on the footpath with today's accomplishment. As the footpath ends, joyous kids jump shouting in chorus…this is a jump into the world of awareness and dignity! A jump no less than what we have seen on a convocation day at Ivy League colleges. Some of the waiting parents give their kids a hug and smile indicates they-did-something-right-for-their-kids. Kids will move on with daily work – some will go hunting for waste. Some will do babysitting for young sister/ brother. Some will clean dishes at a tea stall. Some will accompany parents at a nearby construction site….And the biker moves on to enlighten little lives at another Sarvodaya center…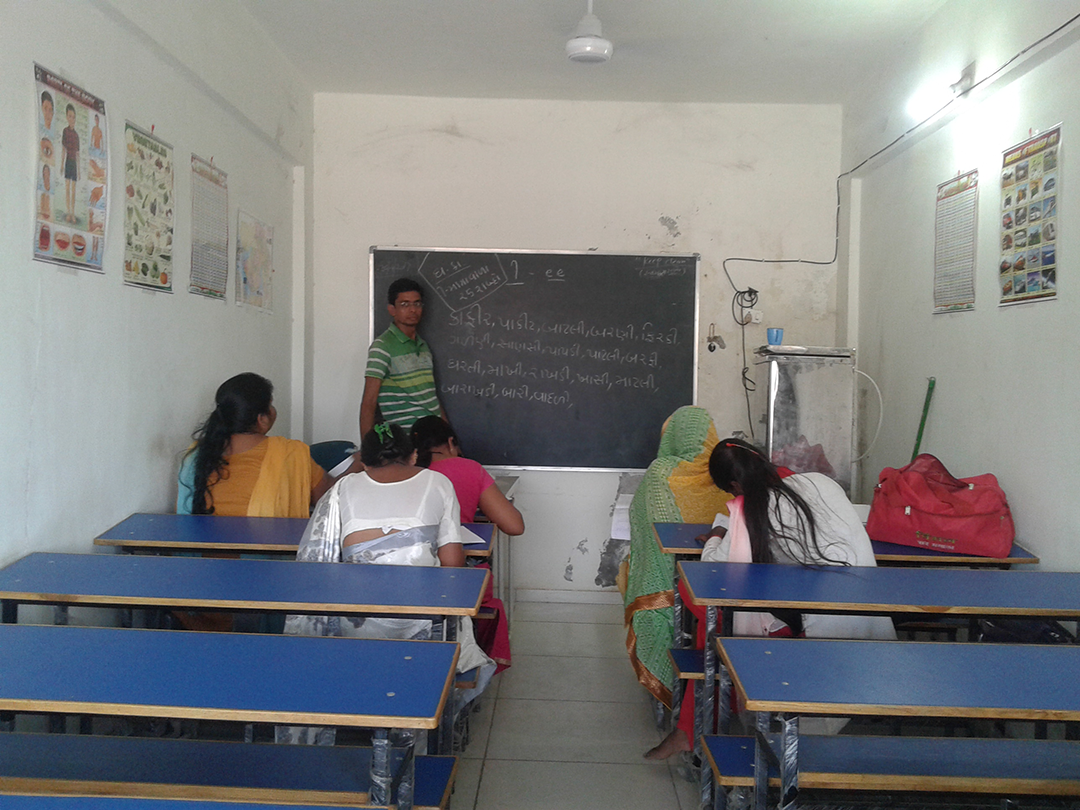 Dictionary – foot•path (noun). Meaning – A narrow path for people to walk along.
I am sure Oxford/ Cambridge will reject a meaning that "A path where people can walk along and school can be run".
When there is a will, there is a school on the way!
Virat is tall, thin and has high stamina. Soft spoken. His actions indicate he has clarity of purpose in life.
He lives with parents, wife and kids in Vatva and Narol area. His wife Trupti is an M.E. (Polymer Tech) and is an entrepreneur. She supports Virat in pursuing his dreams.
Daughters Aparna, 11 years and Parita, 8 years like what their daddy does and join occasionally in the work. Jagannathbhai (father) worked in a textile mill and Sheelaben (mother) a housewife.
They worked hard for imparting good education to children – 2 sisters and Virat. However tough times started as father's textile mill closed down in 1980s.
Virat was good at academics and his cousin brother recommended his father to admit him in 'The New High school', Manek Chawk.
Virat scored well till SSC without any coaching or guide. Considering the financial issues at home, Virat always aspired to study and work.
So in SSC vacation, he would go to one of the washing powder-manufacturing companies rather than resort to unethical means of earning.
He wanted to be doctor and serve the people. But he had no idea, neither there was any one in family to guide.
Despite having admission in Medicine, his selection of stream was driven by what others did and financial constraints.
He opted for B.E.-Instrumentation branch at L. D. College of Engineering.